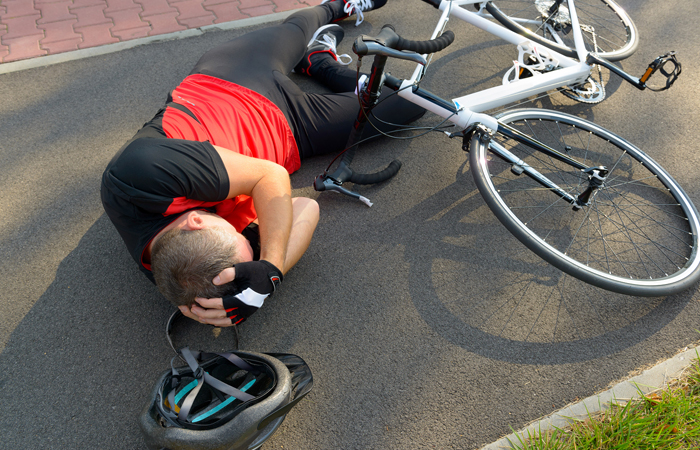 Bicycle accidents may be fatal. There are hundreds of cyclists killed and injured in California every year. Most drivers deny liability after a bicycle accident and insurance companies often do not evaluate dutifully the right compensation for the damages done. Our bicycle accident lawyers in Ventura, Oxnard and Santa Barbara can help you hold negligent drivers accountable for the injuries they caused you.
Bicycle accident statistics
Nearly 70% of fatal bicycle accidents involve injuries to the head
Bicycle injuries cost $8 billion dollars every year.
Around half of cyclist fatalities occur on rural roads
75% happen at, or near, a road junction
There have been many laws on cycling, because of its dangerous nature. Below are some of the most important Laws in Cycling under the California Vehicle Code:
Wear a helmet. Cyclists under age 18 are required to wear an approved helmet when riding a bicycle. Not wearing a helmet may cause injuries from scars and bruises to permanent brain damage.
Use Bike lanes. All bike lanes must be used whenever present usually when a cyclist is moving slower than regular traffic of cars.
Ride with Reflectors at night. When riding at night, a rider must be equipped with a white light visible from a 500 ft distance.
Follow the Vehicle Code. This simply means that both bicyclist and riders have the same rights and duties on the road. Bicycle riders must follow the same rules like any other vehicle drivers.
Common Causes of Oxnard, Ventura and Santa Barbara Bicycle Accidents
Drivers of motor vehicles often don't share the road very well with bicyclists. Accidents usually occur during the following circumstances:
Motorist emerging into and turning across path of cyclist
Cyclist and motorist colliding head to head
Cyclist riding into the path of a motor vehicle, often riding off a pavement
Cyclist turning right from a major road and from a minor road
Child cyclist playing or riding too fast
Some drivers engage into recklessness and negligence by overspeeding and drifting into a bike line while disregarding the safety of cyclists. Bicycle casualties more commonly take the forms of:

These may range from minor cuts to fatal skull fractures and brain damage. A hospital data shows that 40% of cyclists suffer head injuries and 45% are children.

The average number is over 40% suffering arm injuries and around 25% suffering leg injuries.

Chest and abdomen injuries occur much less frequently (5%), but are often serious. When they do occur they are often accompanied by head injuries.
Seeking Compensation for Bicycle Accidents
Bicycle accidents may cause serious and devastating injuries. When it is caused by someone else's negligence and recklessness, the victim can rightfully seek compensation for the damages done. Compensation may account for medical bills, suffering and parin and loss of income. Are you looking for a bicycle accident lawyer in Oxnard, Santa Barbara and Ventura region? If yes, you should contact The Law Office of Osbelia Castillo.
GET A FREE CASE CONSULTATION!
The Law Office of Osbelia Castillo is ready to examine the facts of your case, and we will explain your options in English or Spanish.